Certified Pre-Owned Volkswagen Vehicles at Hiley Volkswagen of Arlington

When you choose to buy a Certified Pre-Owned Volkswagen from Hiley VW Arlington, you'll be getting a reliable, high quality Volkswagen that comes with a number of great benefits.

Each Certified Pre-Owned VW from Hiley Volkswagen Arlington comes with a 2-year or 24,000-mile limited warranty form Volkswagen. This helps to offer you a little more peace of mind. Items that are covered under the warranty include:

    - 2 years or 24,000 miles (whichever comes first)
    - 24-Hour Roadside Assistance Program²
    - Engine
    - Steering
    - Front and rear axles
    - Manual transmission
    - Electrical power supply
    - Heating and air-conditioning
    - Anti-lock Braking System
    - Electrical systems
    - Torque converter
    - Differential
    - Material or manufacturing defects

Should the unexpected happen your Certified Pre-Owned Volkswagen also comes with the benefit of two years of 24-hour Roadside Assistance. This means you'll have Volkswagen experts standing by 24 hours a day to get you and your Volkswagen back on the road in no time. With the Volkswagen 24-hour Roadside Assistance Program you can enjoy:

    - Tow to the nearest licensed authorized Volkswagen dealer
    - Flat tire changes
    - Jump starting
    - Emergency fuel delivery
    - Winching/Extrication
    - Unlocking your door
    - Emergency repairs
    - Available 365 days a year, 24 hours a day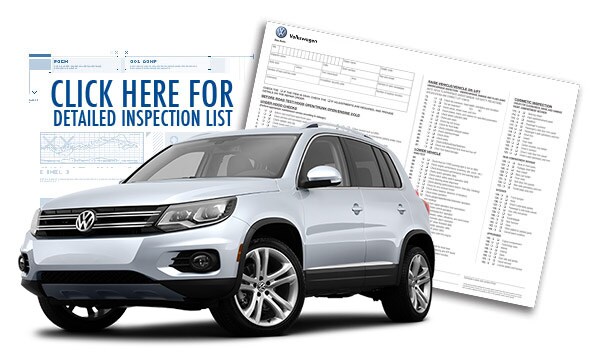 Here at Hiley Volkswagen in Arlington we take as much pride in our Certified Pre-Owned vehicles as we do our new cars. Each Certified Pre-Owned VW goes through a comprehensive and detailed 112-point inspection. Each VW is tested, inspected, and driven to ensure that everything is in proper working order. If any element does not meet our standards it will be repaired or replaced using only Genuine Volkswagen parts. A few of the items you can expect be looked at during the inspection include:
    - Check engine for starting and performance, and idle for knocking and vibration
    - Check transmission for any performance malfunction or noise
    - Test brakes for proper function, distance, and vibration
    - Test steering for noise, effort, vibration, and pulling
    - Get all maintenance up to date, ensure records with vehicle
At Hiley Volkswagen Arlington we understand that you want to know your Certified Pre-Owned VW was well taken care of by the previous owner. That is why each of our CPO vehicles comes with a CARFAX vehicle history report. This report will check for any title problems, provide you with an ownership history, and let you know if the vehicle has been in any accidents. You can find out everything your car, and its owner, have been up to.
As an added perk every Certified Pre-Owned Volkswagen equipped with Sirius XM comes with three months of complimentary SiriusXM Satellite Radio. You'll enjoy 100% commercial-free music from every genre available, along with the best in sports radio, world news, and entertainment, all right at your fingertips.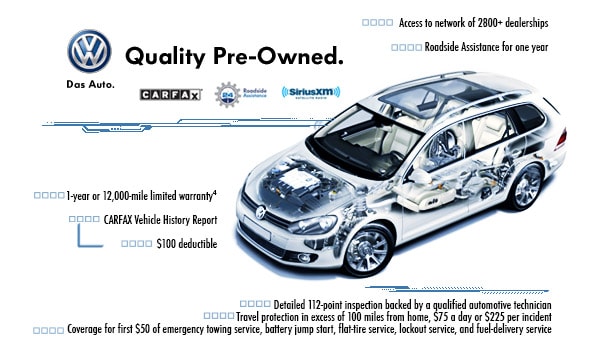 Come see us at Hiley Volkswagen Arlington today to browse our great selection of handpicked and high quality Certified Pre-Owned Volkswagen vehicles. Our Sales Specialists are knowledgeable and friendly and they are excited to help you find a Certified Pre-Owned VW that best suits your family's lifestyle and your budget. At Hiley VW Arlington we strive to make your car buying experience memorable and hassle-free. You can browse all our Certified Pre-Owned Vehicles online, and be sure to check out our monthly specials. If you'd like a test drive come on into the dealership. We're located at
1461 E Interstate 20, Arlington, TX 76018
and are proud to serve the Dallas, Fort Worth, Arlington, DFW, and Grand Prairie, Texas area. If you have any questions please do not hesitate to give us a call at
(888) 379-5897
. We look forward to your visit at Hiley VW Arlington!